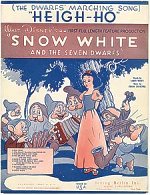 We love vintage sheet music! These wonderful items are colorful, historical, fun, and great for framing or collecting. Click here to see all of our current sheet music auctions!!

We have sold thousands of pieces of vintage sheet music, and we never sell reproductions. Some of these authentic items are pictured on this page. Each piece that we sell is professionally cleaned and mended (if necessary) with acid-free tape. We then grade each piece according to the following strict guidelines: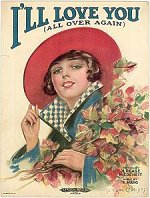 AS NEW - Crisp and fresh, clean and unmarked, no defects.

FINE - Near-perfect and free of defects, but just not as crisp as a new piece. No tears, no stains, corners must be mostly sharp, only the slightest handling wear is allowed. An original store stamp is allowed, but no writing.

VERY GOOD - A very clean piece with only slight defects. Edges and corners can show some light wear but no tears greater than 1/2 inch anywhere. Handling wear is allowed but must be light. One or two light creases are OK, only some light soiling. Stains and other damage are not allowed.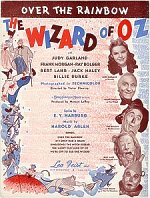 Can have a store stamp, label or owner's name written on cover, some light pencil notations are allowed inside on the music.

GOOD - The average used piece. Defects can include handling wear, edge and corner wear, light creases, tears up to 1", a light water stain (but no damage), up to 50% spine split, writing, a label, or a store stamp on the cover, or other acceptable minor defects. Can be mended inside with tape - no tape on cover.

FAIR - More than average wear. Defects can include handling wear, edge and corner roughness, creases, writing, chipping, 100% spine split, tape on the cover or inside. Must still be complete and useable.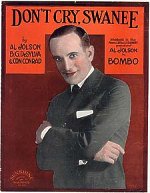 POOR - Music must be complete, but can be torn, ragged, mended, stained, stapled, etc.

COVER ONLY - It is not uncommon for older sheets to be missing insert sheets so that the music is not complete, and this must be noted in addition to the above grades.

Click here for all of our current sheet music auctions!! Please e-mail us if you have any questions.